Originally constructed and operated as "MHATT-CAT" by a consortium from University of Michigan, Howard University, and Bell Labs-Lucent Technologies, 7ID is now an APS beamline specializing in time-resolved x-ray scattering and spectroscopy.  The time structure of the x-ray beam is used to achieve temporal resolution of 90 ps or less, depending on the fill pattern of the APS storage ring.  Three experimental hutches allow for a wide variety of experimental setups.  A climate-controlled laser lab houses a fs laser while high rep-rate lasers reside in an experimental hutch.
Information on the various hutches:
7ID-B A white-beam hutch for imaging fuel sprays and high-pressure liquids
7ID-C The laser-pump x-ray diffraction probe station at APS beamline 7ID
7ID-D Time-resolved x-ray spectroscopy and scattering of atoms and molecules
The 7ID beamline is described in the following International Synchrotron Radiation Instrumentation conference proceedings:
Time-Resolved Research at the Advanced Photon Source Beamline 7-ID, Eric M. Dufresne, Bernhard Adams, Dohn A. Arms, Matthieu Chollet, Eric C. Landahl, Yuelin Li, Donald A. Walko, and Jin Wang, AIP Conference Proceedings 1234, 181-184 (2010), DOI: http://dx.doi.org/10.1063/1.3463168
Developments in time-resolved x-ray research at APS beamline 7ID, D. A. Walko, B. W. Adams, G. Doumy, E. M. Dufresne, Yuelin Li, A. M. March, A. R. Sandy, Jin Wang, Haidan Wen, and Yi Zhu, AIP Conference Proceedings 1741, 030048 (2016), DOI: http://dx.doi.org/10.1063/1.4952871
X-ray Characteristics
Energy range (nominal): 6-24 keV
Flux: 3x1012 photons/s at 10 keV
Bandpass: 5.4x10-5
X-ray bunch length (24-bunch mode): 90 ps
The x-ray source for 7ID is an APS Undulator A, with a period of 3.3 cm and length of 2.4 m.  The 7ID-A enclosure contains a double-crystal, water-cooled diamond (111) monochromator for delivering x rays to the experimental stations.The 7ID-B hutch can also accept white-beam radiation.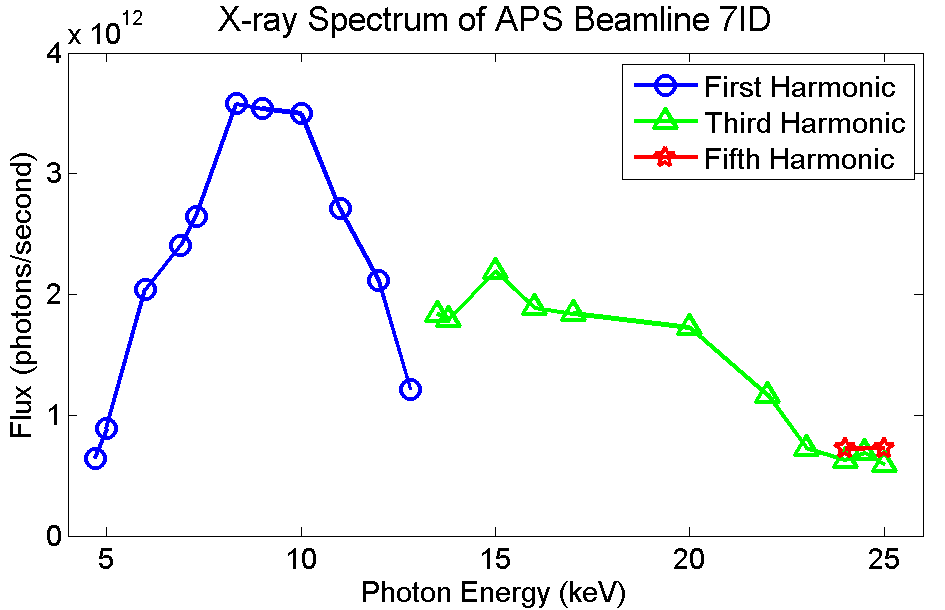 This figure displays the measured x-ray spectrum in the 7ID-C hutch.White-beam slits were set to 0.5 mm horizontal by 0.55 mm vertical; the insertion device and diamond (111) monochromator were optimized before each data point was collected.  The x-ray flux thru a 1 mm x 1 mm slit was measured by an air-filled ion chamber 52 m from the source.  These are not the settings used in all experimental configurations; delivered x-ray flux depends on a number of factors.
Laser Characteristics
Spectrum of pulse energies for the various laser excitation sources available at 7ID: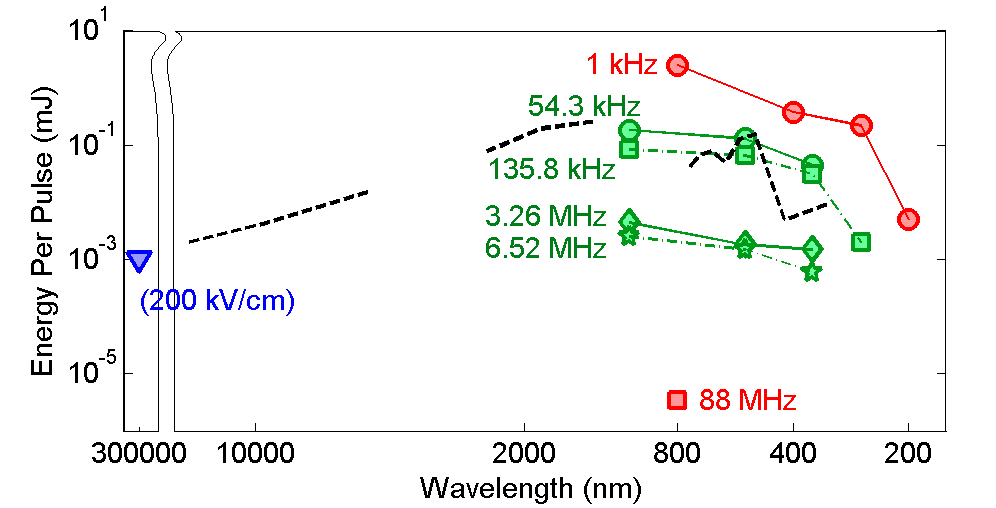 Red circles: Ti:sapphire amplifier and harmonics
Red square: Ti:sapphire oscillator
Black lines: Ti:sapphire-pumped OPA
Blue triangle: Ti:sapphire-derived THz excitation
Green symbols: Duetto MOPA at various repetition rates and harmonics
Femtosecond Laser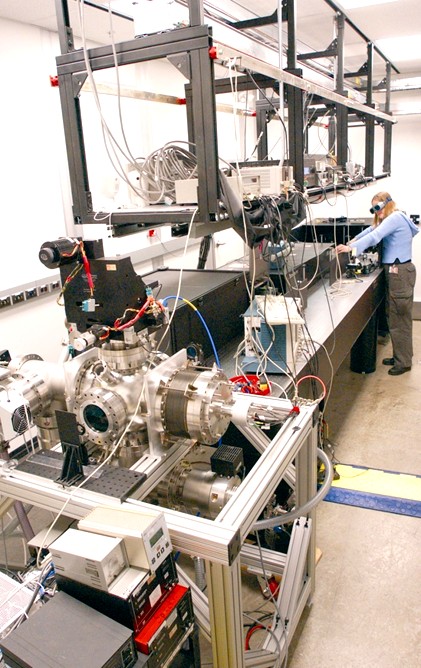 Located in separate, climate-controlled laser lab
Transported to 7ID-C and D via in-vacuum overhead transport
Oscillator

Coherent Micra Ti:Sapphire 300 mW, 20 fs
88 MHz repetition rate
Synchronized to accelerator RF within 250 fs rms

Amplifier

800 nm Ti:Sapphire CPA regen (Coherent Legend)
2.5 W average power compressed to 50 fs
2.5 mJ/pulse at 1 kHz
Conversion to 400 nm at 15% efficiency

Optical Parametric Amplifier (OPA)

100-fs pulses from 200 nm to 20 µm at 1 kHz, with >10 µJ/pulse

Intense THz source

Peak field ~100 kV/cm, pulse duration 500 fs
Bandwidth 0.1-2 THz with central wavelength 0.8 THz
High Rep-Rate Laser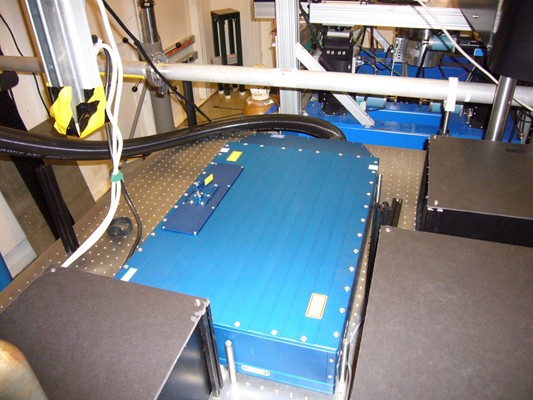 Located in 7ID-D experimental hutch
Transportable to 7ID-C via overhead transport
Time-Bandwidth Duetto System

10 ps and 130 ps pulse durations
Repetition rate variable from 54 kHz to 6.52 MHz
10 W power at 1064 nm and 54 kHz (185 µJ/pulse)
Easily converts to higher harmonics 532, 355, and 266 nm

Most efficient use of the high flux/high rep rate of the APS