Time-resolved x-ray scattering and spectroscopy
Overview
Beamline 7ID of the Advanced Photon Source is dedicated to time-resolved x-ray research.  By taking advantage of the time structure of the APS, a wide variety of time-resolved measurements are performed by combining several lasers with three dedicated experimental stations for time-resolved x-ray diffraction techniques.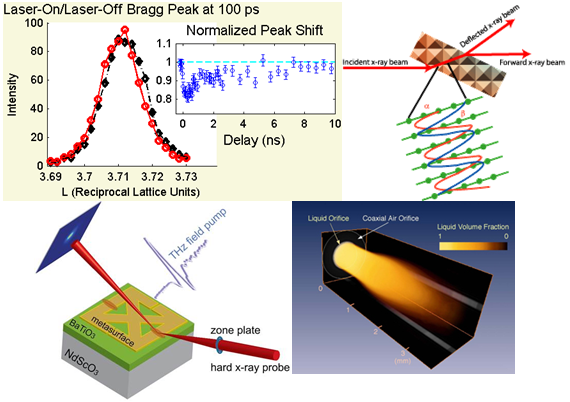 Major Areas of Research
Time-resolved x-ray diffraction, including at elevated and cryogenic temperatures
Time-resolved nanodiffraction
Time-resolved pair distribution function analysis
7ID Status
Beamline 7ID is operated by the Time Resolved Research group of the X-ray Science Division.  It shares APS Sector 7 with the 7BM beamline, which is dedicated to time-resolved measurements of complex fluid flowfields using x-ray radiography and fluorescence spectroscopy.
7ID is currently undergoing enhancements as part of the APS-Upgrade, including new x-ray optics and a dedicated hutch for time-resolved nanodiffraction.  It is expected to return to operations in 2024.