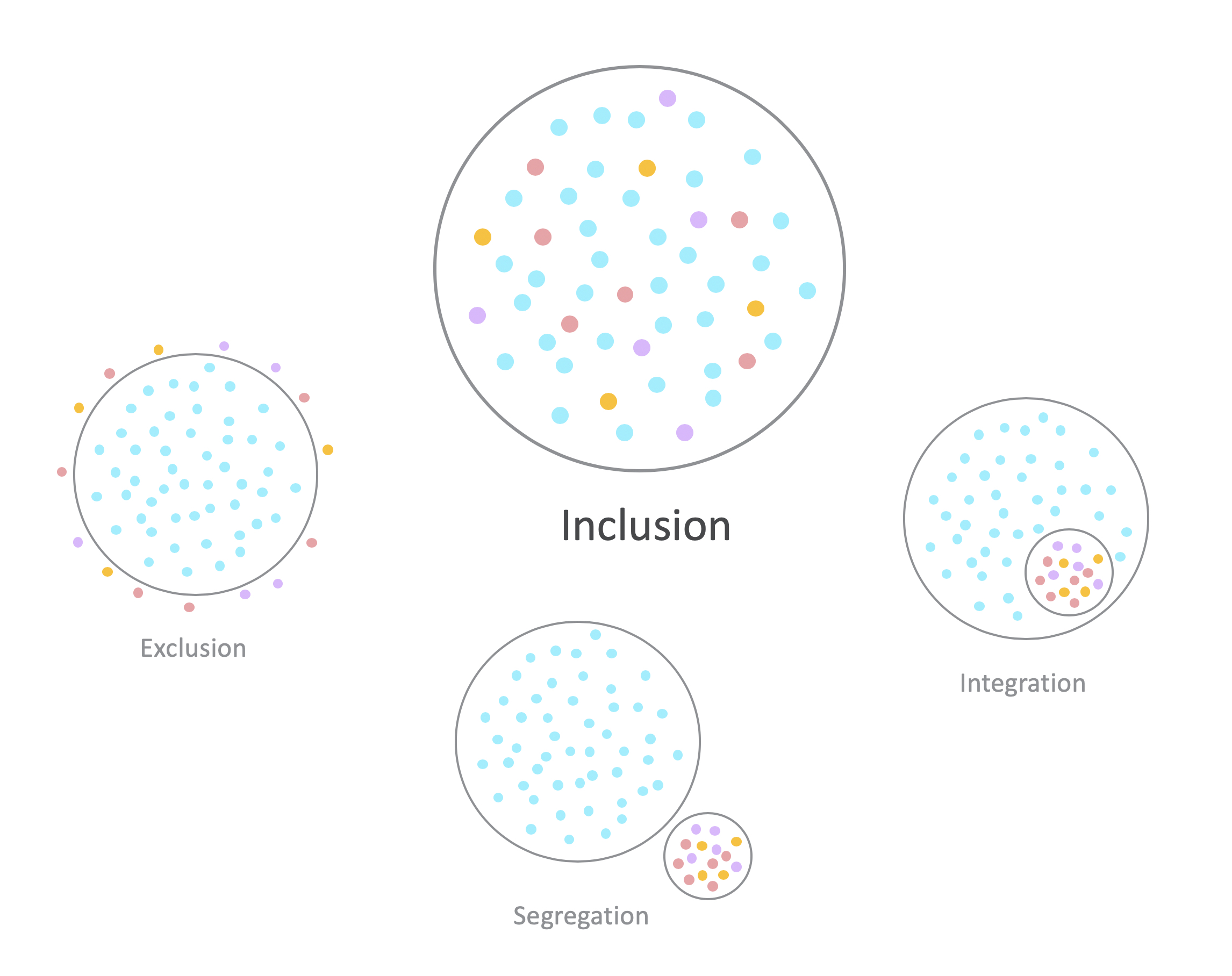 The Photon Sciences (PSC) workforce and its user community are diverse and reflects many distinguishing characteristics, including but not limited to age, race, disability, gender identity, ethnicity, sexual orientation, national origin and religion, but also other forms of diversity such as research discipline, level of education, and academic affiliations. By building upon our Core Values of Impact, Safety, Integrity, Respect and Teamwork to create an equitable and inclusive culture, each of us can help to ensure that all PSC employees and users have opportunities to advance to the fullest extent of their skills and abilities. By taking advantage of our diversity, and effectively realizing inclusion, we can maximize our organizational potential. The laboratory organizational structure of DE&I can be found here and the the PSC council membership can be found here.
What is Diversity, Equity & Inclusion?
Diversity and inclusion are two halves of the whole; equity is the glue that holds them together:
It is important to note that equity differs from equality:
In order to achieve our goals of providing an inclusive and equitable workplace, we need to do everything we can to identify and eliminate unfair biases, stereotypes or barriers that may limit the full potential of our diverse community.
Since a short video can be worth a thousand words, we invite you to watch the following ones to understand the concepts of psychological safety and unconscious bias:
Other resources:
Events
Wednesday, June 10th, 2020 - A Strike For Black Lives:
Thursday, June 25th, 2020 - PSC: Conversation on Systemic Racism
Mission
The council serves as an advocate for our diverse PSC community. We partner with leadership to seek out improvements to strengthen our work-life community, promoting Argonne core values and DE&I initiatives.
If you have concerns relating to diversity, equity & inclusion in the workforce, recommendations to improve the work environment, or DE&I related recruiting questions, please contact us at psc-di@lists.anl.gov. You can also contact directly any member of the DE&I Council listed here.
Alternatively, you can report any concerns or issues anonymously by contacting the Laboratory Ombuds Brad Ginn at bginn@anl.gov.
Vision
An equitable and inclusive work environment committed to diversity, where everyone is valued and empowered to be able to develop their talents that will provide the greatest opportunities for the individual, with the greatest benefit to Argonne.
Lab resources