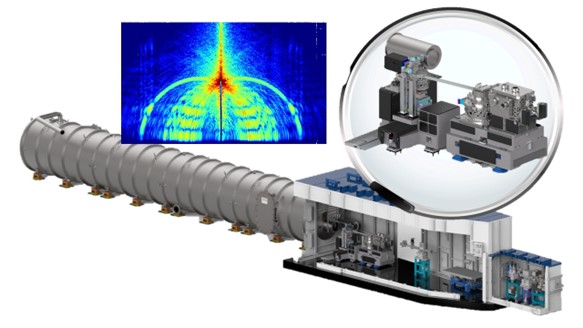 The Advanced Photon Source will hold a hybrid workshop to explore ideas for potential first experiments at the CSSI beamline. CSSI's single end station will house three major capabilities:
Coherent Surface Scattering Imaging (CSSI) for surface and interface structures

Grazing-incidence small-angle and wide-angle X-ray scattering (GISAXS/GIWAXS)

Grazing-incidence X-ray photon correlation spectroscopy (GI-XPCS)
This two-day workshop will be held on Tuesday, August 1 and Wednesday, August 2, from 10:00 AM to 3:30 PM CT both days. Registrants can attend the session in person at the APS or virtually.
Please register for the CSSI First Experiments Workshop by filling out this registration form and indicating whether you will attend in person or virtually. Those attending in person will receive gate passes and instructions in a follow-up email. Those attending virtually will also receive instructions for how to join the meeting remotely in a follow-up e-mail. Please register by July 17.
Location: Bldg. 401, 5th Floor, Room A5000 
AGENDA
August 1 (Day 1 of 2)
Time  (CDT)

Speaker/Affiliation

Title

10:00-10:15

Jonathan Lang

Opening Remarks

10:15-10:45

Jin Wang

Beamline Overview 

10:45-11:15

Zhang Jiang

CSSI Introduction and Outlook

11:15-11:45 (20+10)

Sunil K. Sinha (UCSD)

Coherent GISAXS

11:45-12:15  (20+10)

R Joseph Kline (NIST)

Metrology for Semiconductor Industry

12:15-12:45 (20+10)

Karl Ludwig (Boston U)

Real-Time Coherent X-ray Scattering Studies of Surface Growth and Patterning Processes

12:45-1:00

Discussion 

 

1:00-2:00

Working lunch

2:00 – 2:30 (20+10)

Joseph Strzalka

GI-SAXS/WAXS/XPCS Outlook

2:30-3:00 (20+10)

Jonathan Rivnay (Northwestern)

Organic Mixed Ionic/Electronic Conductors: The Importance of Operando Structure and Spectroscopy

3:00-3:30 (20+10)

Yuepeng Zhang (ANL)

 

In-situ X-ray Scattering Study of Particle-Polymer Interaction During a Dynamic Shearing Process

3:30-4:00 (20+10)

Aditya D. Mohite (Rice University)

Light-Induced Structural Dynamics in 2D Halide Perovskites

4:00-4:15

Discussion

 

6:00

No host dinner
August 2 (Day 2 of 2)
Time  (CDT)

Speaker/Affiliation

Title

9:55-10:00

Staff

Welcome, Day 2

10:00-10:30 (20+10)

Dillon Fong (ANL)

In Situ Studies of Surface / Interface Structure & Dynamics

10:30-11:00 (20+10)

Eva M Herzig (Universität Bayreuth)

GI-XPCS On Thin Films

11:00-11:30 (20+10)

Jie Xu (ANL)

Autonomous Experimentation for Materials Discovery

11:30-12:00

Discuss

 

12:00-1:30

Working lunch

 

1:30-2:00 (20+10)

Alamgir Karim (U Houston)

Grazing-Incidence Scattering for Ionic-Liquid Assisted Directed Self-Assembly (DSA) of Block Copolymer Films for Nanotechnology

2:00-2:30 (20+10)

Ying Diao (UIUC)

Enabling Dynamic Electronics and Dynamic Printing through Grazing Incidence X-ray Scattering

2:30-3:00

Discussion and concluding remarks