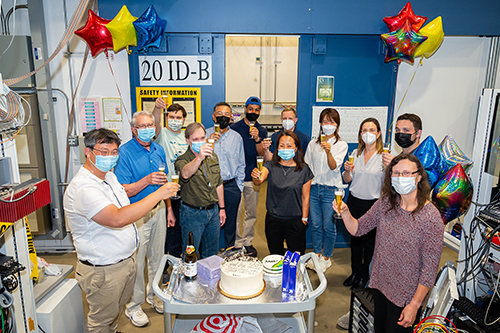 On a recent Friday afternoon, a group of scientists gathered at the Advanced Photon Source (APS) to raise a glass to the past and to the future.
For more than 25 years, scientists hoping to make use of cutting-edge technology for x-ray spectroscopy have come to Sector 20 of the APS. Home of advanced x-ray spectroscopy instruments including the Lower-Energy Resonant Inelastic X-ray Scattering (LERIX) spectrometer, 20-ID has been a destination for scientists seeking precise chemical information about their samples and has produced roughly 600 publications over its lifetime.
Now the 20-ID beamline is transforming into the High Energy X-ray Microscope (HEXM), one of the feature beamlines under construction as part of the APS Upgrade Project. The spectroscopy program will move to a new beamline, 25-ID, which will offer enhanced and improved scientific tools for users.
With first measurements at 25-ID only weeks away, the 20-ID team ate cake and toasted with sparkling cider to celebrate a quarter-century of scientific achievement, and the as-yet-unknown discoveries that await at their new beamline home. Giving the toasts were Steve Heald, who led the 20-ID team for 28 years, and Shelly Kelly, the current APS X-ray Science Division (XSD) Spectroscopy Group leader.
"Under Steve's guidance, 20-ID produced a lot of truly fantastic science over the past 25 years," Kelly said. "Steve gave a toast to all the things 20-ID has done in the past, and I gave a toast to the team's future work at 25-ID. So, it was both a closing and an opening celebration."
Heald took the opportunity to reflect on the beamline's many accomplishments.
"20-ID always pushed spectroscopy techniques forward," he said. "We were always looking for better detection, better resolution, and new techniques. I have no doubt that will continue at 25-ID.
"What has always excited me about spectroscopy is its broad range of applications, from batteries to proteins to the environment," Heald continued. "It's been rewarding for me to learn about all of these things over the years, and to help our users get the best results we could provide them."
The Spectroscopy Group was joined by members of the XSD Time-Resolved Research Group, led by Xiaoyi Zhang. Experiments in time-resolved research will move from 11-ID and 7-ID to one of the new experiment enclosures at 25-ID, and the two groups will be partners on the beamline.
"It's nice to have a new big family," Kelly said.
With beamline construction completed, Kelly said her team expects to be conducting new experiments at 25-ID before the end of the year.
"We have big shoes to fill," she said. "We're excited to work on the new beamline, and while we don't know what we'll find, I'm sure it will be wonderful."   
― Andre Salles
____________________________________________
The Advanced Photon Source is a DOE Office of Science User Facility operated for the DOE Office of Science by Argonne National Laboratory under Contract No. DE-AC02-06CH11357
The U.S. Department of Energy's APS at Argonne National Laboratory is one of the world's most productive x-ray light source facilities. Each year, the APS provides high-brightness x-ray beams to a diverse community of more than 5,000 researchers in materials science, chemistry, condensed matter physics, the life and environmental sciences, and applied research. Researchers using the APS produce over 2,000 publications each year detailing impactful discoveries, and solve more vital biological protein structures than users of any other x-ray light source research facility. APS x-rays are ideally suited for explorations of materials and biological structures; elemental distribution; chemical, magnetic, electronic states; and a wide range of technologically important engineering systems from batteries to fuel injector sprays, all of which are the foundations of our nation's economic, technological, and physical well-being.
Argonne National Laboratory seeks solutions to pressing national problems in science and technology. The nation's first national laboratory, Argonne conducts leading-edge basic and applied scientific research in virtually every scientific discipline. Argonne researchers work closely with researchers from hundreds of companies, universities, and federal, state and municipal agencies to help them solve their specific problems, advance America's scientific leadership and prepare the nation for a better future. With employees from more than 60 nations, Argonne is managed by UChicago Argonne, LLC, for the U.S. DOE Office of Science.
The U.S. Department of Energy's Office of Science is the single largest supporter of basic research in the physical sciences in the United States and is working to address some of the most pressing challenges of our time. For more information, visit the Office of Science website.