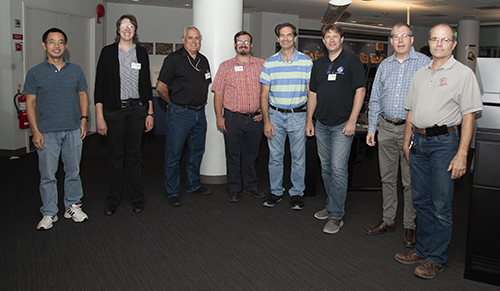 A group of control system developers from NASA's Glenn Research Center Armstrong Test Facility in Sandusky, Ohio, visited the Advanced Photon Source (APS) on September 9, 2022. The purpose of this field trip, hosted by Guobao Shen (APS Accelerator Systems Division [ASD] Controls Group Leader), was to see a live demonstration of the Experimental Physics and Industrial Control System (EPICS).
EPICS is a set of open-source software tools, libraries, and applications that make up a toolkit for building distributed control systems to run on a variety of operating systems. EPICS has been used for over 25 years at the APS, and world-wide it operates devices such as particle accelerators, telescopes, and other large scientific facilities. Control systems based on EPICS can interface to equipment from many different manufacturers and can scale from a single desktop PC up to a large-scale facility like the APS that contains hundreds of computers networked together to provide control and feedback of many thousands of devices and millions of data points from a central control room.
EPICS is also the name of the collaboration between the many organizations from all around the world that have been involved in the software's development. The original core software was written jointly by Los Alamos National Laboratory and Argonne National Laboratory, and now runs scientific facilities on all 5 continents. New versions of the tools continue to be released, developed cooperatively by their users and some associated commercial companies, under the oversight of the EPICS Council.
The Advanced Photon Source is a DOE Office of Science User Facility operated for the DOE Office of Science by Argonne National Laboratory under Contract No. DE-AC02-06CH11357
The U.S. Department of Energy's APS at Argonne National Laboratory is one of the world's most productive x-ray light source facilities. Each year, the APS provides high-brightness x-ray beams to a diverse community of more than 5,000 researchers in materials science, chemistry, condensed matter physics, the life and environmental sciences, and applied research. Researchers using the APS produce over 2,000 publications each year detailing impactful discoveries, and solve more vital biological protein structures than users of any other x-ray light source research facility. APS x-rays are ideally suited for explorations of materials and biological structures; elemental distribution; chemical, magnetic, electronic states; and a wide range of technologically important engineering systems from batteries to fuel injector sprays, all of which are the foundations of our nation's economic, technological, and physical well-being.
Argonne National Laboratory seeks solutions to pressing national problems in science and technology. The nation's first national laboratory, Argonne conducts leading-edge basic and applied scientific research in virtually every scientific discipline. Argonne researchers work closely with researchers from hundreds of companies, universities, and federal, state and municipal agencies to help them solve their specific problems, advance America's scientific leadership and prepare the nation for a better future. With employees from more than 60 nations, Argonne is managed by UChicago Argonne, LLC, for the U.S. DOE Office of Science.
The U.S. Department of Energy's Office of Science is the single largest supporter of basic research in the physical sciences in the United States and is working to address some of the most pressing challenges of our time. For more information, visit the Office of Science website.