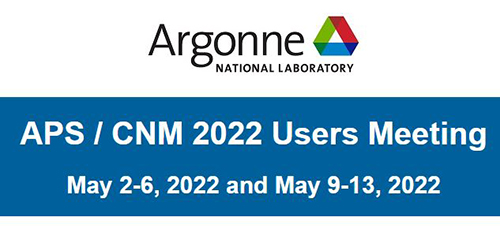 The 2022 APS/CNM Users Meeting will gather scientists and engineers from diverse fields of research from around the globe to discuss cutting-edge, mission-driven research. The event will feature plenary sessions, workshops, poster sessions, and a vendor expo.
Meeting dates: May 2-6 and May 9-13
Highlights this year include 11 workshops, special sessions, poster session, exhibitors, and more!
Important meeting dates:
February 28, 2022 - Rosalind Franklin Young Investigator and Gopal K. Shenoy Excellence in Beamline Science Award nominations due
March 7, 2022 - Invited Speaker Abstracts and Workshop working agendas due
April 1, 2022 - Poster abstracts due and Workshop Final Agendas due
April 15, 2022 - User Meeting Registration deadline
Click here for general information.