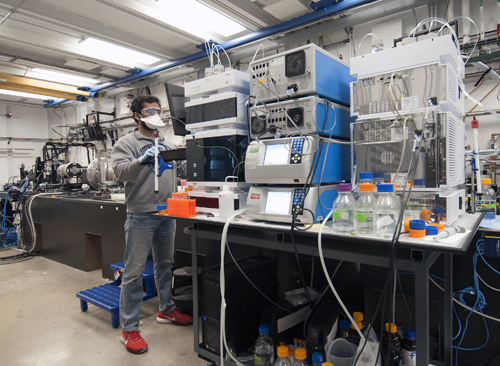 Small-angle solution x-ray scattering and biochemical characterization studies at the Bio-CAT beamline 18-ID at the APS are being used to study the structure of portions of RNA from the SARS-CoV-2 virus. This RNA contains the genetic instructions the virus uses to replicate itself. These experiments are designed to see how these structures change when they interact with selected small molecules that are potential drug candidates. This work is a collaboration between Blanton Tolbert (Department of Chemistry, Case Western Reserve University), Amanda Hargrove (Duke University) , Srinivas Chakravarthy (Illinois Institute of Technology, pictured here while wearing a face mask as required by Illinois' COVID-19 prevention controls) and a nuclear magnetic resonance consortium coordinated by Harald Schwalbe at the Goethe University (Germany). NOTE: No live coronavirus is used in studies at the APS. 
The Advanced Photon Source is a U.S. DOE Office of Science User Facility operated for the DOE Office of Science by Argonne National Laboratory under Contract No. DE-AC02-06CH11357.
Argonne National Laboratory seeks solutions to pressing national problems in science and technology. The nation's first national laboratory, Argonne conducts leading-edge basic and applied scientific research in virtually every scientific discipline. Argonne researchers work closely with researchers from hundreds of companies, universities, and federal, state and municipal agencies to help them solve their specific problems, advance America's scientific leadership and prepare the nation for a better future. With employees from more than 60 nations, Argonne is managed by UChicago Argonne, LLC, for the U.S. DOE Office of Science.
The U.S. Department of Energy's Office of Science is the single largest supporter of basic research in the physical sciences in the United States and is working to address some of the most pressing challenges of our time. For more information, visit the Office of Science website.