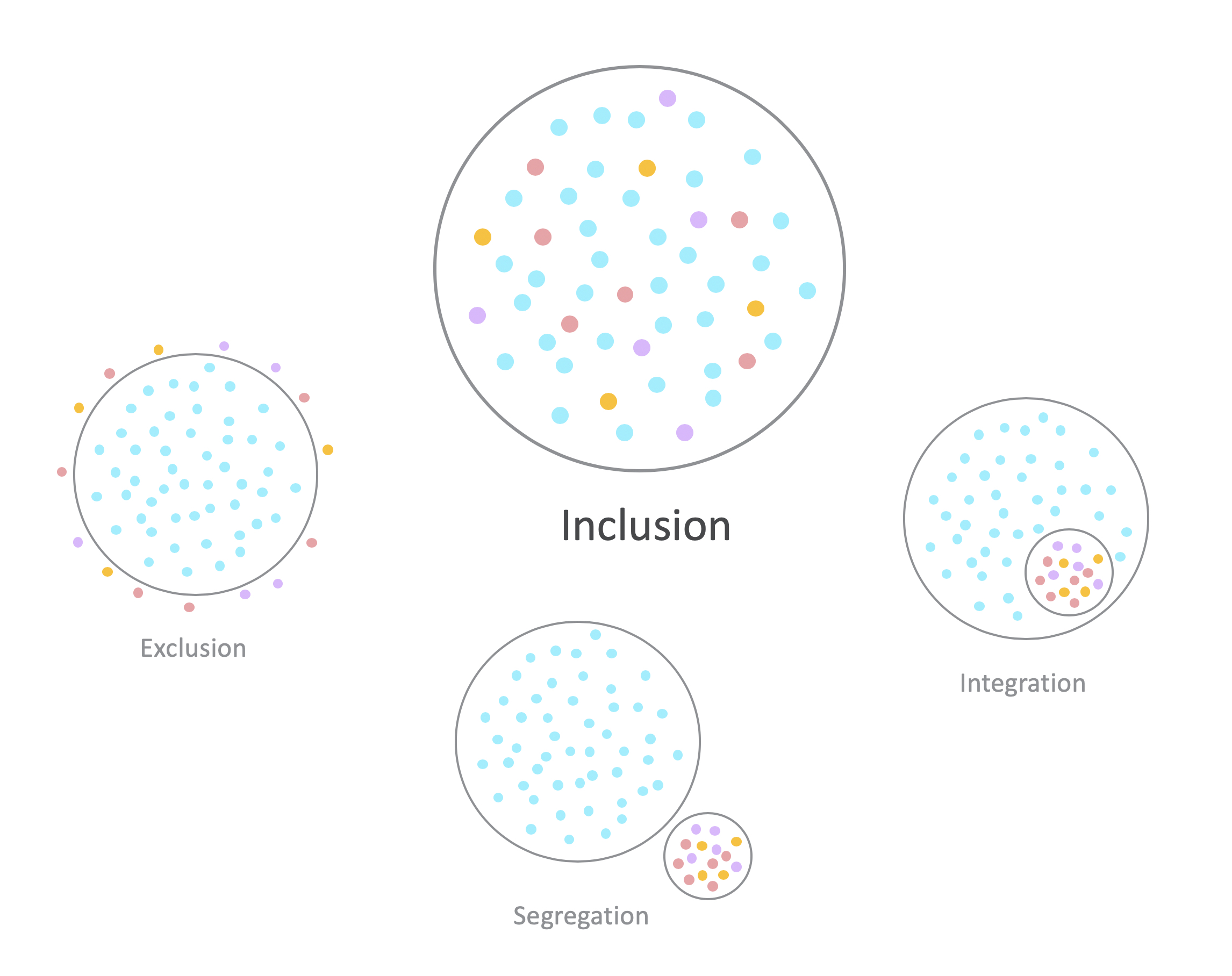 Diversity is the recognition of each person's unique background, abilities, and needs, including accessibility requirements. This provides the potential for greater innovation and creativity while ensuring equal opportunities for all individuals.
Inclusion is the act of bringing each of those unique individuals into the whole, creating an environment where they can fully contribute and thrive. This enables organizations to realize the benefits of the potential diversity provides.

Equity is the fair and respectful treatment of all people. It is different from equality in that it provides people with the resources, opportunities and accommodations specific to their histories, circumstances, and accessibility needs. It is achieved when everyone has equal opportunities to obtain benefits, even if the outcomes are unequal.

Accessibility is the principle of ensuring that all individuals, including people with visible and/or invisible disabilities, have equal access to the physical spaces, digital platforms, information, and resources they need. It involves removing barriers, providing accommodations, and adopting inclusive design practices to promote a welcoming and inclusive environment for everyone.
Diversity and inclusion are two halves of the whole; equity and accessibility are the glue that holds them together.
In order to achieve our goals of providing an inclusive, equitable, and accessible workplace, we are committed to identifying and eliminating unfair biases, stereotypes,
and barriers that may limit the full potential of our diverse community
What can you do to help?
Everyone has a place in the DEIA space™
The first and easiest thing we can do is to educate ourselves. Here are a few resources - some literally only take 3 min to watch! We have also selected trainings and workshops you can find in the Events section below.
Consider subscribing for the STEM outreach email list by registering at Argonne Volunteer Management System. It only takes 2 minutes to set up! Just follow the instructions here in video or PDF.
This does not commit you to anything but will keep you informed about STEM outreach volunteer opportunities that may interest you. Inspiring students to consider pursuing a career in a Science, Technology, Engineering, or Mathematics (STEM) field is crucial to broaden the impact of STEM awareness in our community.
 
You can also join us on our Teams channel to share resources, thoughts, ideas and concerns. 


Activate your LinkedIn Learning account
Lab resources