About the Compton Award
The Arthur H. Compton award was established in 1995 by the APS Users Organization (APSUO) to recognize an important scientific or technical accomplishment at the Advanced Photon Source. The award consists of a plaque and $2500.
The awards are generally made at APS User Meetings, which are held every spring. A call for nominations is sent out before the meeting, and the winner(s) is invited to give an award lecture at the meeting. Awards are not necessarily made each year.
Compton was an American physicist who won the Nobel Prize for Physics in 1927 for discovering and explaining changes in x-ray wavelengths resulting from x-ray collisions with electrons, the so-called Compton effect. This important discovery in 1922 confirmed the dual nature (wave and particle) of electromagnetic radiation. A Ph.D. from Princeton University, Compton held many prominent positions, including professor of physics at The University of Chicago and chairman of the committee of the National Academy of Sciences that studied the military potential of atomic energy. His position on that committee made Compton instrumental in initiating the Manhattan Project, which created the first atomic bomb.
 Recent Winner
2019 APS Compton Award Presented to Tai-Chang Chiang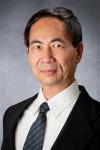 The Advanced Photon Source (APS) Users Organization has announced that the 2019 APS Arthur H. Compton Award has been awarded to Tai-Chang Chiang of the Department of Physics at the University of Illinois, Urbana-Champaign.
The Compton Award recognizes an important scientific or technical accomplishment at, or beneficial to, the APS. This year's award is given for Chiang's ingenuity and insight in developing x-ray thermal diffuse scattering into an efficient quantitative method for phonon band structure studies.
Beginning in the 1980s, Prof. Chiang was a pioneer in the use of synchrotron radiation in establishing the angle-resolved photoemission technique for electron band structure determination of solids, surfaces, and films. His more recent scientific accomplishment is in developing the thermal diffuse scattering (TDS) technique into an efficient, quantitative method by which materials scientists at synchrotron x-ray facilities such as the Advanced Photon Source (APS) can determine phonon band structure. The impact of this methodology on materials research, especially in cases involving small samples, microstructures, and phase transitions is likely to be far reaching.
The award was presented at the APS Plenary Session, Monday, May 6, 2019, during the 2019 APS/CNM Users Meeting. Read the full story here.
Past Winners