About the Gopal K. Shenoy Excellence in Beamline Science Award
This APSUO award recognizes beamline scientists who have made significant scientific contributions in their area of research or instrumentation development and have promoted the user community in this area. The award was renamed in 2017 in honor of the late Gopal K. Shenoy, one of the key players in the inception of the APS and a world renown materials scientist. Gopal was always a huge supporter of the facility's scientists and truly enjoyed working with them. The inaugural Gopal K. Shenoy Excellence in Beamline Science Award will be presented at the 2018 APS/CNM Users Meeting.
This award is conferred in alternate years at the Users Meeting on an active APS beamline scientist, regardless of employer or rank. It may recognize a career of meaningful sustained contribution, a body of recent important work, a single work of particular importance, or a combination of these accomplishment. Nominees must be full-time beamline scientists at the Advanced Photon Source who spend at least half of their time on user operations or instrument development. Any APS user may submit a nomination. The awardee will be recognized at the Users Meeting, receive a $1000 award, and have his or her name added to the award plaque hanging in the atrium in Building 401.
Current Winner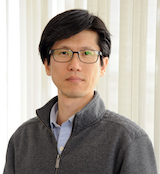 The 2017 Award for Excellence in Beamline Science at the Advanced Photon Source was awarded on May 8, 2017, to Byeongdu Lee, physicist in the Chemical and Materials Science Group in the APS X-ray Science Division.

Lee was selected based upon his leadership and innovations in nanoscale science, particularly nanomaterials, and his significant contributions to x-ray scattering (more than 60 publications since 2013), including the theory, application, and development of analytical methods and state-of-the-art instrumentation.  He was also selected to acknowledge his demonstrated and sustained commitment to the APS user community by the education, training, and mentoring of young scientists.

Byeongdu was recognized for "building highly productive and multidisciplinary collaborations with researchers around the world" and for being "a world leader in both developing new methods to analyze x-ray data from soft systems, and also in developing new synthetic methods for generating unique polymeric and biological materials."
Past Winners