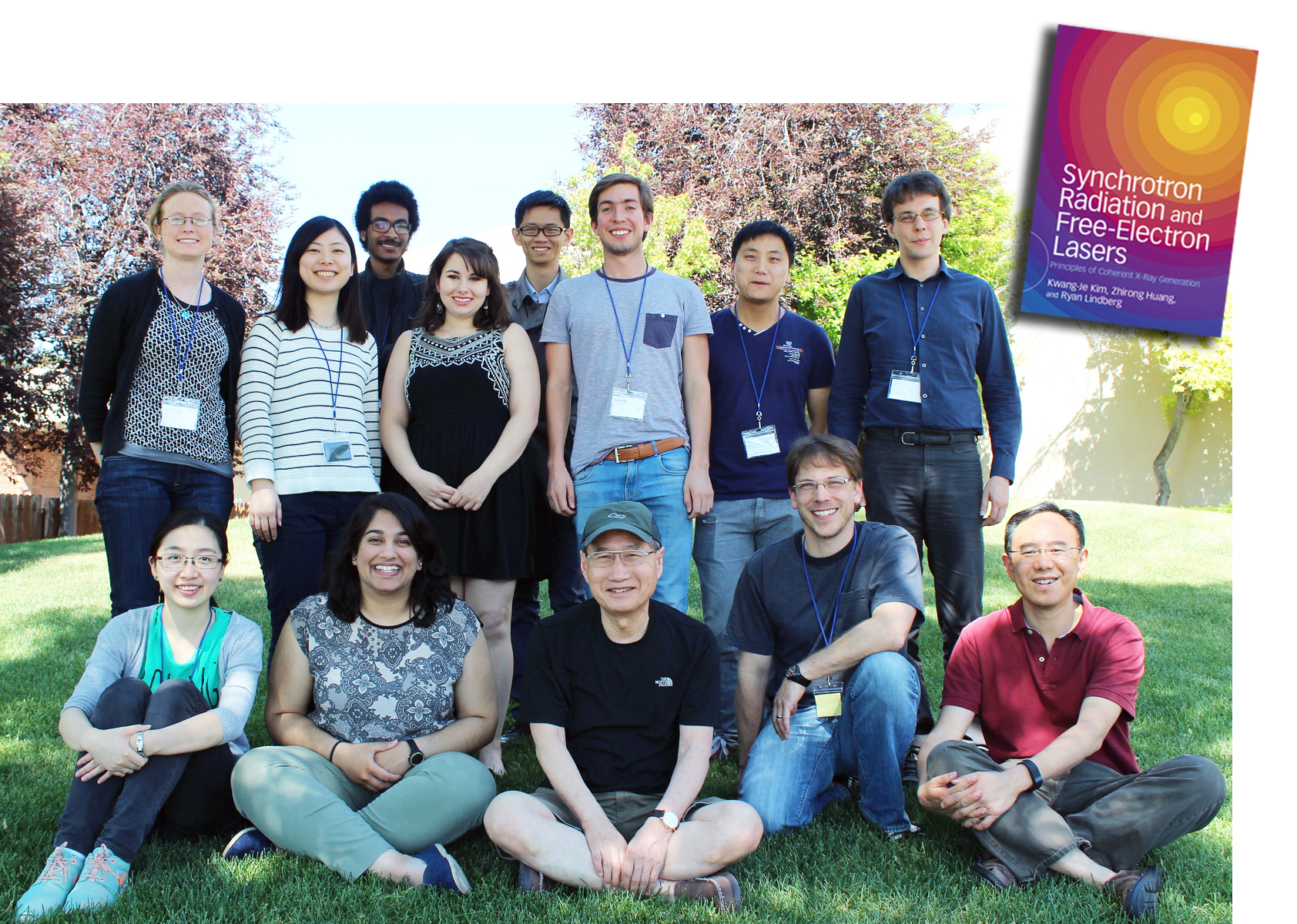 Argonne and APS Accelerator Systems Division accelerator physicists Kwang-Je Kim and Ryan Lindberg, together with fellow accelerator physicist Zhirong Huang of the SLAC National Accelerator Laboratory, are co-authors of a new textbook, Synchrotron Radiation and Free-Electron Lasers: Principles of Coherent X-Ray Generation, to be published in May 2017 by Cambridge University Press.
The book is a unified exposition of synchrotron radiation sources and free-electron lasers (FELs). It is a timely publication in view of the modern synchrotron radiation facilities such as APS serving thousands of users, the advance toward the MBA (multi-bend achromat) ring-based fourth-generation capabilities at the APS and elsewhere, and the recent development of x-ray free-electron laser facilities at SLAC and elsewhere opening possibilities for capturing images of nano-sized objects and studying their femtosecond motions. (One femtosecond is a millionth of a billionth of a second.)
"Our book covers the basic principles as well as the in-depth discussions of advanced mathematical concepts that underlie these unique light sources," the authors say. "We hope it will serve as a comprehensive resource for students and researchers who design, operate, use, and innovate these facilities."
The book originated in a course the authors have been teaching at the U.S. Particle Accelerator School since 2000.
The Advanced Photon Source is a U.S. Department of Energy Office of Science User Facility operated for the U.S. Department of Energy Office of Science by Argonne National Laboratory under Contract No. DE-AC02-06CH11357.
Argonne National Laboratory seeks solutions to pressing national problems in science and technology. The nation's first national laboratory, Argonne conducts leading-edge basic and applied scientific research in virtually every scientific discipline. Argonne researchers work closely with researchers from hundreds of companies, universities, and federal, state and municipal agencies to help them solve their specific problems, advance America's scientific leadership and prepare the nation for a better future. With employees from more than 60 nations, Argonne is managed by UChicago Argonne, LLC for the U.S. Department of Energy's Office of Science.
The U.S. Department of Energy's Office of Science is the single largest supporter of basic research in the physical sciences in the United States and is working to address some of the most pressing challenges of our time. For more information, visit the Office of Science website.